Leaders in the wooden folding guncart.

All of our guncarts fold down in seconds without tools!
Please note, because every cart is hand made, there may be slight variations of the dimensions of the sizes from cart to cart. If you require a specific size for any dimension, please let us know that so we can make it perfectly for you.
The dimensions noted below are for the

Mustang Woodcrafters 4 Guncart

.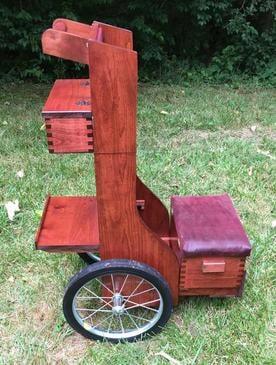 Standing upright, and assembled, cart measures:

48 1/4" high (from wheel base to top of the handle)

30" long (from the front bumper to the back of the cooler rack. 27" w/o cooler rack)

21" wide (the axle is the widest part of the cart)
Outside dimensions without axel: 13 1/4"
Inside dimensions (between uprights) 11 3/4"
 

 Ammo Box (largest box)

 

Accessory box - Smaller box

 Empty Shell Box:

 Cooler Rack:

Outside Dimensions 

13 1/2" wide (w/o handle)

Inside Dimensions (usable space)